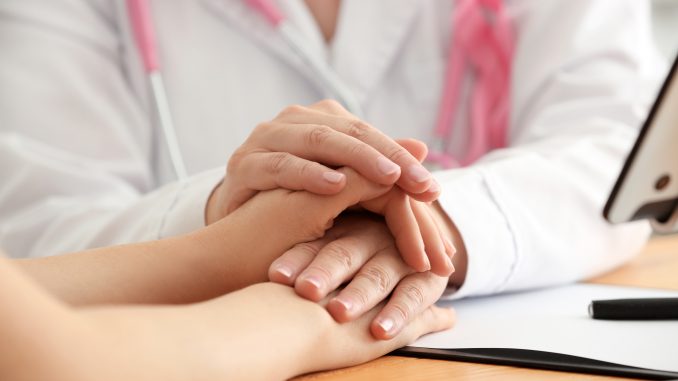 This page was originally published August 1, 2017 and updated November 23, 2022.
This blog post will provide an overview of symptoms, diagnostics, and the current NCCN-approved treatment guidelines for breast cancer patients. It will also introduce our readers to some of the many nationwide financial and emotional support programs available at no cost for those affected by this disease. If you or a loved one have been diagnosed, please visit our national directory of free products, programs, and services just for breast cancer patients in the USA for the financial and emotional support you and your family deserve. ❤️
Symptoms
According to the American Cancer Society (ACS), breast cancer is the second most common type of cancer in women in the United States, after skin cancer. In 2022, it's estimated that around 287,850 new cases of invasive breast cancer will be diagnosed in women in the US, along with 51,400 cases of non-invasive (ductal carcinoma in situ) breast cancer. Nearly one in eight women will develop breast cancer at some point in their lives. For those diagnosed with the disease, the financial and emotional burdens can be overwhelming. As the National Cancer Institute describes, it's important to be familiar with the signs and symptoms of breast cancer so you can catch the disease early and get treatment as soon as possible. If you notice any changes in your breasts, please make an appointment with your doctor right away. Studies demonstrate that early detection is key to successful treatment.
Lump in the Breast or Underarm
One of the first signs of breast cancer is usually a lump in the breast or underarm. The lump may be painless at first, but it can grow and become painful. Check your breasts regularly for any lumps and see a doctor if you find one.
Changes in the Breast Shape or Texture
Another symptom to look out for is changes in the shape or texture of your breast. This can include dimpling, puckering, redness, or thinning of the skin on the breast. If you notice any changes, make an appointment with your doctor right away.
Nipple Discharge
Another potential symptom is nipple discharge, which can be either bloody or clear. This is usually not a sign of cancer, but it's still important to have it checked out by a doctor.
Pain in the Breast
Breast cancer can also cause pain in the breast that doesn't go away. The pain may be constant or only happen when you touch your breast. Either way, it's important to have it checked out by a doctor.
More information on the signs and symptoms of breast cancer is outlined in the National Cancer Institute patient guide on breast cancer.
Diagnostics
While most breast cancers are first detected by either a screening mammogram or a physical exam of the breasts, there are a number of other diagnostic tests and procedures that may be used to confirm the presence of cancer and to determine if it has spread. This can be a confusing and overwhelming time, but understanding the different types of diagnostic tests and what they entail can help make the process a little less daunting. Here's an overview of some of the most common diagnostic tests used to diagnose breast cancer. The National Cancer Institute's patient guide is a good resource for more on this topic.
Biopsy
A biopsy is typically the next step after an abnormal mammogram or physical exam. During a biopsy, a small sample of cells is removed from the breast so that it can be examined under a microscope for signs of cancer. If cancer is present, the biopsy can also provide information about the type of breast cancer and how aggressive it is.
There are several different types of biopsies that can be performed, including fine needle aspiration (FNA), core needle biopsy, and surgical biopsy. Your doctor will recommend the type of biopsy that is best for you based on a number of factors, including the size and location of the suspicious area.
Imaging Tests
Imaging tests such as ultrasounds, MRIs, and PET scans may also be used to diagnose breast cancer. These tests can be used to help determine if a mass is solid or filled with fluid, which can help distinguish between benign and malignant tumors. They may also be used to check if cancer has spread to other parts of the body.
Laboratory Tests
Blood tests are not typically used to diagnose breast cancer, but they may be ordered at some point during your treatment to check things like hormone levels or your liver function. Your doctor may also order what's called a tumor markers test, which measures certain substances in your blood that may indicate the presence of cancer. However, tumor marker tests are not definitive and should not be used on their own to diagnose cancer.
There are a wide variety of diagnostic tests and procedures that can be used to assess breast cancer. The type of test recommended for you will depend on your individual situation. More information on diagnostics can be found here on the NCI website. If you have any questions about any of the diagnostic tests you've been asked to undergo, don't hesitate to ask your doctor for more information. It is important to work together to get the care you need.
Treatment
If you have been diagnosed with breast cancer, you may be wondering what your treatment options are. Keep in mind that your specific treatment plan may vary depending on the stage and type of breast cancer you have, as well as your overall health and your own personal treatment goals. According to current National Comprehensive Cancer Network (NCCN) guidelines, the most common treatments for breast cancer are surgery, radiation therapy, chemotherapy, and hormone therapy.
Surgery
Surgery is usually the first line of treatment for breast cancer. The type of surgery depends on the stage of the cancer and other factors. For early-stage cancers, a lumpectomy (removal of the tumor) may be recommended. For more advanced cancers, a mastectomy (removal of the entire breast) may be necessary.
Radiation
Radiation therapy is typically used after surgery to lower the risk of the cancer coming back. Radiation therapy can be given externally (from a machine outside the body) or internally (from radioactive material placed in or near the tumor).
Chemotherapy
Chemotherapy can be used to shrink tumors before surgery, after surgery to lower the risk of the cancer coming back, or as a standalone treatment for advanced cancers. It is typically given intravenously (through an IV), but can also be given in pill form.
Hormone Therapy
Hormonal therapy is a type of cancer treatment that works by either reducing the amount of hormones in the body or by blocking their action. It is typically used to treat hormone-receptor-positive breast cancers that are either estrogen-receptor-positive or progesterone-receptor-positive.
Your specific treatment plan will depend on many factors, including the stage and type of breast cancer you have. Be sure to talk to your doctor about all your treatment options and review the current NCCN guidelines so that you can make informed decisions about your care.
Free Support
We get it. A cancer diagnosis is never easy to hear. It can be a shock to the system that turns your whole world upside down. If you or someone you know has recently been diagnosed with breast cancer, it is important to know that there are free nationwide resources available to help with both the financial and emotional challenges that come with the disease. Here are just a few of the zero-cost national programs available to breast cancer patients in the USA. Our complete directory is available here. ❤️
Financial Support Programs for Breast Cancer Patients
The Donna M. Foundation is a national nonprofit serving breast cancer patients throughout the USA. Grants are available for housing expenses, transportation expenses, medical co-pays, groceries, and more. Eligibility is based on financial need and medical proof of diagnosis will be required. To apply for this free grant program, please complete the online form here.
The Angela Andrade Foundation is a national nonprofit organization that awards monetary grants of up to $1800 to metastatic breast cancer patients who are permanent residents of the USA. Awards are offered four times per year and are provided based on financial need and funding. To apply, please download and complete the request form on the website here.
The UBCF COVID Grant Program is open to women and men in the USA in active breast cancer treatment or in remission up to 10 years. This program includes gift cards and other financial support programs uniquely developed for each recipient's needs. Documentation of diagnosis and treatment status is required. To apply, please complete the online form on the United Breast Cancer Foundation website here.
❤️ Click this link for a directory of financial programs just for breast cancer patients in the USA.
Emotional Support for Breast Cancer Patients
The ABCD Free Peer Support Program provides free one-to-one peer mentoring and support for anyone in the USA affected by breast cancer – including patients, families, and friends. Free one-to-one support from a volunteer who is matched based on similar circumstances and understands the journey. The services are free, confidential, and available 24/7. Enroll online using this form.
The American Cancer Society coordinates the Reach to Recovery program which provides free support via phone or in-person services for anyone in the USA dealing with a possible breast cancer diagnosis, recurrence, or advanced-stage breast cancer. To locate a volunteer in your area, call toll-free (800) 227-2345 or visit this link to connect online.
The TNBC Helpline provides free professional support services to patients and families in the USA coping with a diagnosis of triple negative breast cancer. The staff includes oncology social workers with specific knowledge of triple negative bc and are experts in guiding patients and families to resources that match each person's individual needs including financial, emotional, and education support services. For more on this free pro support helpline, please visit this link or call (877) 880-8622 (10AM-6PM M-Th ET) to get immediate assistance over the phone.
❤️ Additional professional and peer support programs are available at zero cost here.
Free Wigs for Breast Cancer Patients
Sharsheret Best Face Forward 2.0 provides a free national wig program for breast and ovarian cancer patients in the USA. Eligibility is based on financial need. Proof of household income under 600% of the Federal Poverty Level and verification of a diagnosis are required. To apply for this free wig program, please complete the form here.
The Pink Wig Project provides a fun and sassy pink wig at no cost to cancer patients in the USA who are in active treatment. If you currently receiving cancer treatment and are looking for a pretty, feminine, and bold new look, visit the website to learn more about this wonderful program. To request your free wig, please complete the online form here.
Pink Heart Funds is a nonprofit organization that provides free human hair wigs for any woman in the USA who is experiencing hair loss from chemotherapy or radiation. If have cancer treatment-related hair loss, please visit this link to choose your style and order your free wig online.
❤️ Additional no-cost wigs, hats and wraps can be found here in our national directory.
More Help for Breast Cancer Patients
A cancer diagnosis is never easy to deal with, but it's important to know that there are resources available to help you through it – both financially and emotionally. Organizations like the ones above can help. These groups provide financial help and offer a safe space for you to share experiences, vent your frustrations, and give and receive support during and after diagnosis. No one should have to go through this journey alone – there is help available. Reach out today for the assistance you and your family deserve. Please visit our national directory for many more free programs, products and services just for breast cancer patients in the USA. ❤️