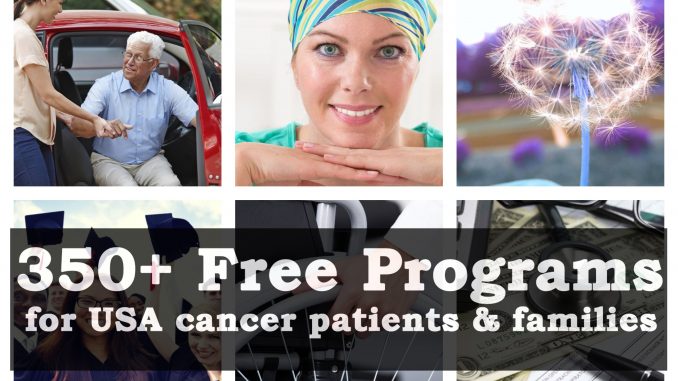 This page was originally published May 20, 2018 and updated September 24, 2022.
Cancer Care News is a 501(c)(3) charity on a mission to help and support people who have been diagnosed with cancer because we understand just how tough this fight can be.
It's our goal to provide nationwide resources that ease the physical, financial and emotional burdens that accompany a cancer diagnosis. From the latest financial support to brand new freebie offerings, to cancer-specific assistance, Cancer Care News provides access to hundreds of free programs, products, and services for cancer patients and families that are updated daily.
All programs listed provide services nationwide and at no cost. Here are just a few of the over 350 programs, products and services available to cancer patients and families in the USA. Please check the links above for even more.
Free Grant Programs:
Modest Needs Foundation (short-term emergency financial assistance between $750.00 and $1,250)
https://www.modestneeds.org/index.asp
The Rally Foundation (covers up to $750 for cancer-related expenses including treatment, utilities, and housing)
https://rallyfoundation.org/why-we-rally/family-emergency-fund/
Free Vacation Programs:
Jack and Jill Foundation (free week-long program for children whose parent have been diagnosed with a late-stage cancer)
Epic Experience (free one-week outdoor adventures to current/former cancer patients 18 years of age and older)
https://www.epicexperience.org/apply/
Free Wish-Granting Foundations:
Fill Your Bucket List Foundation (grants wishes to adults facing a life-threatening cancer diagnosis)
http://www.fillyourbucketlistfoundation.org/nominate
Clayton Dabney Foundation (free wish program for children to age 18 with late-stage cancer)
Free Transportation:
Miracle Flights (free commercial flights for adults and kids who need treatment out of the area)
http://miracleflights.org/request-a-flight/4158924
Angel Wheels (free, non-emergency long-distance ground transportation for treatment)
Free Medical Equipment Programs:
Cancer Survivors' Fund (free help to cover the cost of prostheses for children and young adults)
http://www.cancersurvivorsfund.org
Friends of Man (free financial help for hearing aids, medical equipment, mobility equipment, and orthopedic shoes, prostheses, and wheelchairs)
Free Care Packages:
Chemocessories (free care package for women undergoing cancer treatments)
Stronghold Ministry (free faith-based care package for anyone fighting cancer)
Free Photography Services:
The F.I.L.M Project offers free professional family portraits for those who are faced with a life-threatening illness
http://www.thefilmproject.net
The Magic Hour provides free photography sessions for people of any age who are either currently receiving treatment for cancer or have been cancer-free for under two years.
More Free National Programs
We believe good, useful information empowers us to be our own best advocates. Our sincere hope is that this national directory of 350+ no-cost programs, services, and products provides a quick and easy way for cancer patients and families across the USA to get the help needed to ease the burden of this terrible disease. For cancer-specific programs and services, please visit this link.