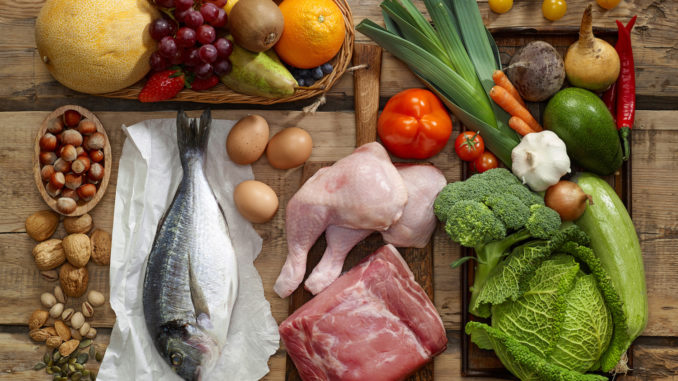 This page was originally published December 7, 2017 and updated September 24, 2022.
We live in a time where technology has so many exciting and helpful uses. One of those is the science behind nutrition. We are learning that good food can help us maintain a healthy lifestyle which, coupled with moderate exercise, can help us reduce the risk of certain cancers. In fact, recent clinical studies show that up to 42% of all cancers could be prevented by simple changes to diet and lifestyle alone!
Unfortunately, when it comes to food, we sometimes choose quick over healthy and those choices could be harming our health.  For example, did you know ingredients found in ultra-processed foods like boxed cakes, white bread, and diet sodas have been linked to obesity, a known contributor to many types of cancers?
While there is no magic foods that eliminate the risk of this disease altogether, the smart choice really is straight forward: avoid processed foods as much as possible and choose "real" foods whenever you can.
Dr. David Chan, medical oncologist and author of Breast Cancer: Real Questions, Real Answers has some effective advice that's pretty simple to follow, "The best dietary way to reduce cancer risk is to eat a balanced diet that limits calories to avoid obesity. That diet should include the basic food groups including fruits and vegetables."
Here are some ideas to get you started:
Fruits
Tomatoes
Pears
Oranges
Red or purple grapes
Berries (blueberries, strawberries, raspberries)
Vegetables
Edamame (The ONLY veggie with ALL NINE essential amino acids!)
Sweet Potatoes
Broccoli
Cauliflower
Brussels sprouts
Protein
Lean chicken
Lean turkey
Lean fish such as salmon
Black, red or pinto beans
Garbanzo beans/chickpeas
Dairy
Skim milk
Low-fat cheese
Eggs
Egg substitutes
Grains
Wild rice or brown rice
Whole grain pasta
Whole grain bread
Bran flakes
Snacks
Popcorn
Whole grain tortilla chips
Whole grain crackers
Almonds (plain, unsalted)
Spices
Turmeric
Garlic
Ginger
Oregano
Cayenne Pepper
You may look at this list and think you don't have time to go to the store every few days for fresh fruit and produce. That's fine; you can opt for frozen or canned if it suits you better.  There are also many ways to have your food delivered to your home if you can't make it to the store due to time constraints or physical impairments. Check your local grocer to see if they have delivery options or find an online meal service that delivers in your area. If you need help affording groceries during treatment, check out our list of agencies that may be able to help paying for part or all of your food bill.
Okay, now that the fridge and pantry are stocked, it is time to get moving. Exercise, even if moderate, is a crucial factor in reducing your risk of cancer. And if you've been diagnosed, studies show exercise can reduce the risk of recurrence. The American Cancer Society recommends the following to maintain a healthy lifestyle:
Adults: Get at least 150 minutes of moderate intensity or 75 minutes of vigorous intensity activity each week (or a combination of these), preferably spread throughout the week.
Children and teens: Get at least 1 hour of moderate or vigorous intensity activity each day, with dynamic movement on at least three days each week.
It's also important to limit idle habits such as sitting, lying down, watching TV, and other forms of screen-based entertainment. Here are more ideas on the American Cancer Society website.
Studies show that obesity contributes to a higher risk for cancer diagnosis than those who maintain appropriate body weight.
According to Dr. David Agus, professor of medicine at the University of Southern California, "Fitness is paramount to your body's overall functioning, and you may not have to sweat the risks of pills or surgery. The data demonstrate that sitting for 5 hours a day is equivalent, on a health basis, of smoking a pack of cigarettes daily!"
It is essential to discuss with your doctor what your ideal weight is and strive to achieve it. Healthier eating and moderate exercise can truly help you live your best life.
Free Programs for Cancer Patients
If you're struggling financially to put food on the table, free help is available. See this link for agencies that offer free food, nutrition and exercise programs for cancer patients.