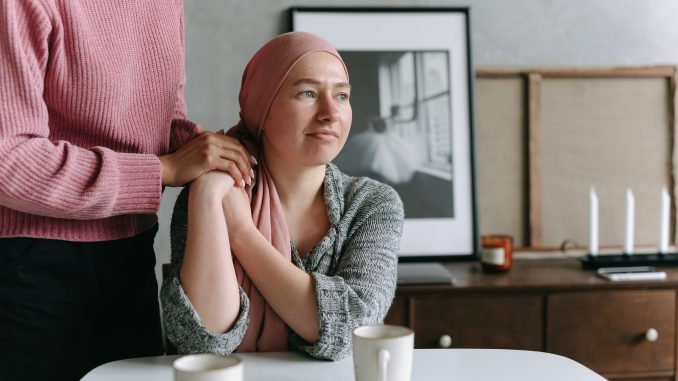 This page was originally published January 13, 2019 and updated September 24, 2022.
A cancer diagnosis can be overwhelming. There are so many things to think about and decisions to make. It's important to remember that you're not alone. There are many organizations and groups that can offer no-cost support, information, and resources. Here are 10 benefits that may be available to you and your family during this difficult time.
1. Financial Assistance
There are a number of organizations that provide financial assistance to cancer patients and their families. These organizations can help with medical bills, transportation costs, housing costs, and more. Check out our nationwide directory of free programs and services for cancer patients for help today.
2. Emotional Support
Cancer can be a very emotionally draining experience. There are many support groups available for cancer patients and their families. These groups provide a safe space to share your feelings and experiences with others who understand what you're going through. Free professional and peer support programs are available at no cost. Visit our directory for more.
3. Practical Assistance
Many cancer patients need help with day-to-day tasks such as grocery shopping, cooking, cleaning, and transportation. There are a number of organizations that can provide this type of assistance. Check out our nationwide listing for free help for cancer patients today.
4. Clinical Trials
There is a lot of information available about cancer, treatment options, clinical trials, and more. It can be overwhelming trying to sort through all of this information on your own. Luckily, there are many organizations that can help you find the information you need. For clinical trial resources, visit this post.
5. Housing Assistance
If you or your family needs help with housing during treatment, there are a number of organizations that can assist with this. Some organizations provide temporary housing for patients undergoing treatment far from home. Others may provide financial assistance to help with mortgage or rent payments. A nationwide directory of free housing programs is available here.
6. Legal Assistance
Cancer treatments can often last for several months or even years and can affect all aspects of life from employment to housing. There are many organizations that offer legal services for cancer patients and their families. We maintain an updated listing of free legal resources here.
7. Transportation Assistance
Getting to and from doctor's appointments, treatment centers, and hospitals can be difficult—especially if you don't have a car or live far from public transportation. See our listings for the many organizations that offer free transportation services for cancer patients.
8. Nutrition Assistance
Eating healthy foods is an important part of maintaining your strength during cancer treatment. Many cancer patients experience nausea and vomiting as side effects of treatment, which makes it difficult to eat. There are many free nutrition programs available that can help cancer patients get the nutrients they need.
9. Exercise Programs
Exercise is an important part of supporting your health during cancer treatment. However, it's often difficult to find the energy or motivation to exercise when you're feeling sick, not to mention the expense and inconvenience of having to go onsite. There are no-cost exercise programs specifically designed for cancer patients that are free of charge and can be done at home for extra convenience.
10. Fertility Assistance
Financial assistance is available to young women and men residing in the USA who have been diagnosed with any type of cancer and have out-of-pocket costs related to preserving eggs and sperm before cancer treatment. Applications, current eligibility guidelines, and more information on fertility financial assistance program for cancer patients can be found here.
Get Help Today
A cancer diagnosis is overwhelming, but you don't have to go through it alone. There are many benefits available to cancer patients and their families from financial assistance to legal help to fertility preservation services. Explore all the options available to you so that you can find the help you need during this difficult time. Cancer is hard but there are free resources that can help you through this difficult time. Please reach out to the agencies and programs for help today.